It is tempting to wish to divide literary production along binary lines. Ben Jonson's constipated complaint against Shakespeare's easy, diarrheic even, flow preceded the tightened distrust of conservative critics when confronted by Kerouac's great rush.
I have another of these seemingly grand, probably deceiving, divisions in mind that proceeds not from the bowels but from geology. That sees Kerouac, D H Lawrence's 'first thought, best thought', as the volcanic eruption of prose. A Hartland Point mode that twists and buckles the flat lines into sweeping curves and contortions that sometimes supplant careful meaning with bravura rushes of upswelling language.
And the other process is, of course, sedimentation. The settling of sands and clays onto a substrate. The steady, cumulative addition of words, phrases, ideas that over time turn from seabeds into mountains and cliffs. This is the Jurassic Coast mode of writing.
In recent years, the shift in the tools of composition from hard copy of various sorts to screen is steadily depriving future scholars and academics of the evidence of the processes by which texts get made. The anxiety that this has induced has a reflex in the development of what is called genetic criticism. A way of reading texts which is rooted in examining drafts and early versions, so as to see the development rather than the finish. The process rather than the product.
When James Joyce was persuaded that publishing Ulysses might be a possibility rather than a thwarted wish, his typescript was delivered by Sylvia Beach to a small traditional printer where the text was typeset by hand and proofs were printed. Which were duly delivered to Joyce for approval, only to be returned with corrections (many went ignored or missed) and – more importantly for my present purposes – additions. A process repeated several times. To the point where the typesetters – setting the text by hand and necessarily backwards and in another language – began to leave spaces in the forms of each page so that they could add Joyce's later thoughts without the tedium of having to re-set and re-paginate later pages.
One estimate is that, in this less-than commodious recirculating, the novel grew by up to a third. Even, so the anecdote goes, that when the final proofs were finally ready to be printed for the book to be ready for Joyce's birthday, a telegram was sent late to the printers with just one more word to be inserted.
We can, I think, be fairly sure that Joyce was not making significant additions to the plot. [See my footnote below for a tale of plots and sub-plots]. That arrived early and is of almost secondary importance to the novel – it is a tale swiftly told. What he was doing, it seems to me, was adding the sands and clays of language and thought to build the monumental cliffs that are this book.
The implications for us as readers are obvious. If we read this novel for plot alone we will be disappointed, but we will have prepared a foundation for subsequent readings. We know what happens, and now we can re-read for how what happens, happens. And that 'how' is itself made up of many layers. Or many threads. Any single metaphor for reading will be insufficient. Let me explore these two a little further.
With the narrative in place, the most obvious addition is the parallels to the Odyssey. And, as I've argued elsewhere, I see these as more imaginative and speculative than schematic. There are few simple one-to-one connections but rather the moment of contact acts as a spur to the writing. So, "Calypso" refers us to the story of Odysseus's sexual imprisonment and that acts as an ironic contrast to the account of Bloom's now-asexual relationship with Molly, which in turn is set alongside her very definitely sexual relationship with Boylan and Bloom's response to the presence of that relationship in the bedroom of his home. It is no accident that he and Molly sleep head to toe.
Next comes Joyce's bravura stylistic performances, which render the book as an account of the modes of writing in (English/Anglo) literature. "Calypso" again. Joyce's deliberately deliberate rendering of early twentieth-century English literary prose – think, Arnold Bennet or John Galsworthy – is almost agonisingly close to these examples. And then drags their supposed commitment to social realism into a jakes. "This, too, is life", Joyce seems to say both through content and mode of writing.
Thereafter, the layers accumulate and their accumulation has both kept the Joyce Industry's wheels turning for many years and has, I suspect, greatly pleased him in Zurich graveyard exile.
He was not, and is not, alone in the sedimentary process of composition. As a gentle preface to another of my ambitions, I offer you a page from Proust's proof corrections and additions for "Swann's Way".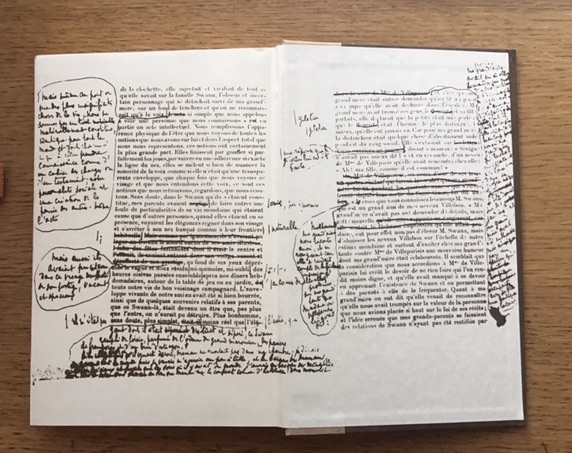 The Footnote.
A novelist friend, as his career waned, rushed a short novel into existence. To be told by his editor that it was indeed too short and needed a sub-plot bolting in. Suitably enlarged by a writer skilled in the art of fast writing, the book now proceeded through the hands of said editor and off to the printers. Where worked an avid late-night reader of books-to-be. Who wrote to the editor and the author, pointing out that a character killed in the bolted-on sub-plot seemed to have been miraculously and without explanation resurrected later in the novel. Cue, rapid corrections.
Thanks to Julia Joppien (@shots_of_aspartame) for the image.